SCHOLASTIC ART AWARDS CEREMONY-FEB. 16, 2018- YOUNG AT ART MUSEUM-6:00 PM
2018 SCHOLASTIC ART AWARDS- Since 1923, the Scholastic Art & Writing Awards have recognized the vision, ingenuity, and talent of our nation's youth, and provided opportunities for creative teens to be celebrated. Through the Awards, students receive opportunities for recognition, exhibition, publication, and scholarships.
GOLD KEY WINNERS -Gold Key works are then judged nationally by an impressive panel of creative–industry experts to receive National Medals, including Gold, Silver, American Visions & Voices, Portfolio Silver with Distinction or Portfolio Gold Medals and Special Awards. National Medalist are recognized in part at the National Ceremony at Carnegie Hall in New York City.
GOLD KEY PORTFOLIO - CINDY CLERMONT
SILVER KEY PORTFOLIO - LAKASJAH BROWN
DHS ART StART Kickoff 2016. Get ready to apply to be a part of fantastic ART StART 2017. Participate in professional artist workshops and exhibit your artwork in FAT Village on the Saturday night's February 25th, 2017 downtown Art Walk. The Flagler Arts and Technology district holds last Saturday monthly art walks where artists, galleries, music, food trucks and more come together for a night of great food, art and culture.
GET READY for scholastics Art and Writing 2017
Congratulations to all the 2016 Scholastics winners! Scholastic Art and Writing is a nonprofit organization, whose mission is to identify students with exceptional artistic and literary talent and showcase their work to the world through the Scholastic Art and Writing Awards. Students are allowed the opportunity for recognition, exhibition, publication, and scholarship. Students' submissions are blindly judged by leaders in visual and literary arts. Scholastic Art and Writing is a national competition that chooses the top 1% of the works submitted to attend a ceremony in their honor at Carnegie Hall in New York City. Congratulations to Marcus Pierre Louis for winning a National Silver Medal for his digital work titled "Critter House Creeper".
Lara Pinheiro
Digital Photography student, Lara Pinheiro, had many successful experiences at Dillard. A graduate of the class of 2016, Lara won the Parsons Challenge and received a $160,000.00 scholarship (full ride!) to get her BFA in Photography at Parsons New School of Design in New York City. Congratulations Lara!
More accomplishments while in the Digital Art Magnet:
Received a 5 on her Advanced placement 2D portfolio
Scholastics Gold Key
Scholastics National Silver Medal for Photography
Summer Pre-College Scholarship at SMFA
Broward Art Guild & Florida State Fair Honorable Mentions
Second place AP Superintendent's exhibit
ArtStART Exhibit
2016 gold keys
Scholastics Gold Key pieces go to New York for NATIONAL judging.
Silver Keys
Fawna Mariangela Baigorria • Popie Lakasjah Brown • Hiv/Aids Briyana Butler • The Gift Lara Pinheiro • Family Photo Esdras Saint-preux •
Honorable Mentions
gl.o Briyana Butler • Glitch [me] Out Briyana Butler • Lucid Leaf Tea Company Briyana Butler • Worker Clonia Charite • Remorse Clonia Charite • Best Behavior Tynesha Duruo • Under the Docks Justin Francis • Sale Megan Lewis • Flower Shanoya McNeil • Neo Gerardo Meza Loa • Key Rudy Norris • The Migration Begins Piero Penizzotto • Paulinho Lara Pinheiro • Invisible Faces Lara Pinheiro • Birdwatcher Sierra Rottman • Phantasmagoric Cesar Valero • Evicted Cesar Valero
Fort Lauderdale – Eleven teenage artists showcased and sold their art on Saturday, Feb. 27 in the FATVillage Art District, thanks to ArtStART 2016, a mentoring program by ceramics artist Cheryl Brown.
"Mentoring students helps to grow the local art culture," Brown explains. "The best way of keeping young talent in their home communities is to remind them what these communities have to offer. ArtStART 2016 demonstrated that there is a place for student artists in our local art culture, and it teaches them how to secure this place."
Get ready to submit an application to be a part of ArtStART 2017. Email cheryl.dawn.brown@gmail.com for your application.
Go to www.facebook.com/events/1039435592775597/?active_tab=posts to see photos from last years exhibit. Learn more at: http://www.fatvillage.com/events/event/artstart-2016-exhibit-mentoring-emerging-teenage-artists/
LOOKING FORWARD TO ANOTHER GREAT YEAR OF INSPIRATIONAL FIELD TRIPS!
See some of our photos from Wynwood Walls, Art Basel, PWC, Boca Museum of Art, and the Perez Museum in Miami.
Masking Tape Mural Created by DIGITAL ART STUDENTS
Using white vinyl tape, students designed and created a non destructive mural in the hallway of Building 8. Briyana Butler came up with the original designs and with the help of Clonia Charite, Gerardo Meza-Loa, Andrew Monoco, Piero Penizzotto, and Lara Pinheiro, they were able to add flair to the High Tech Hallway.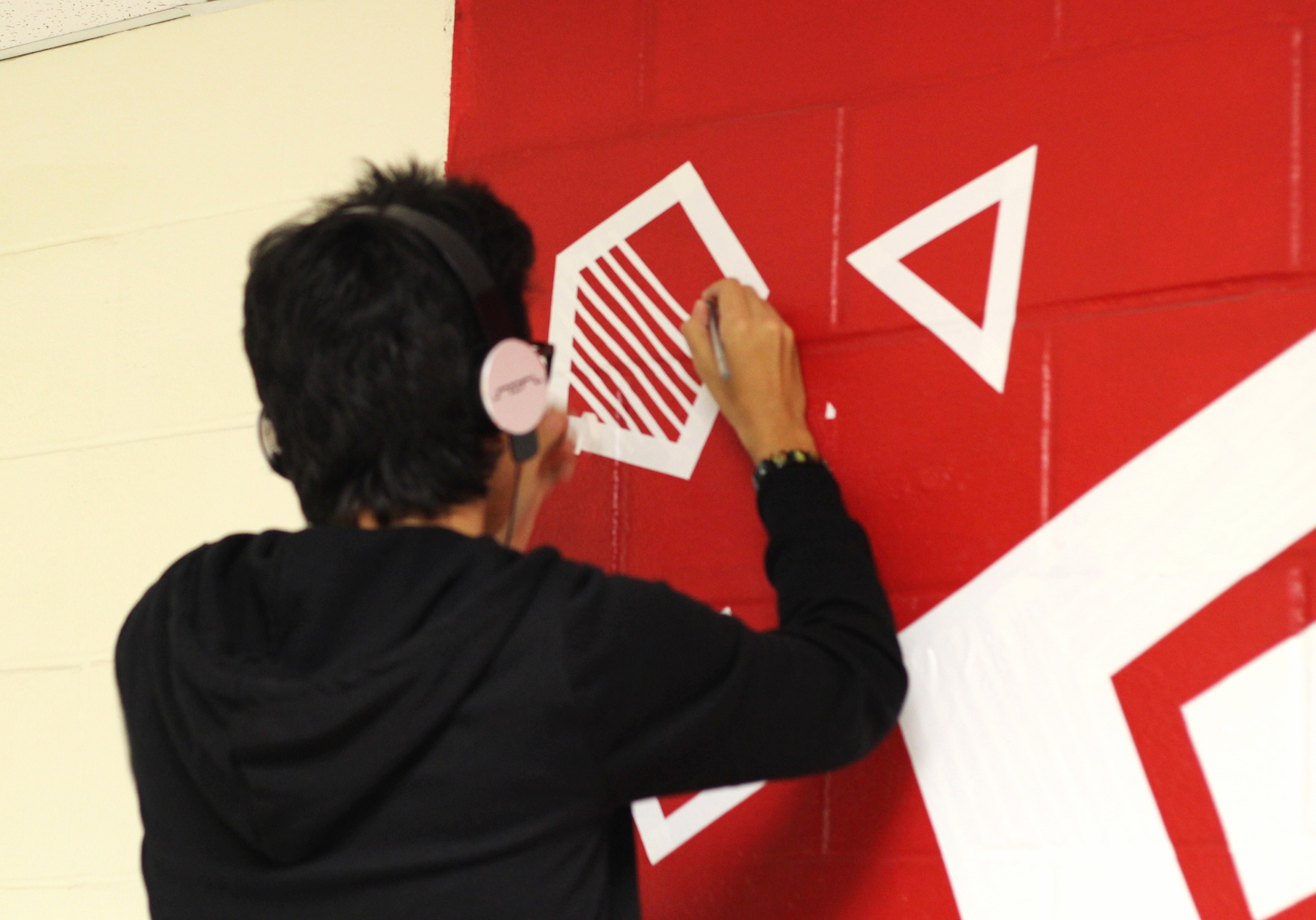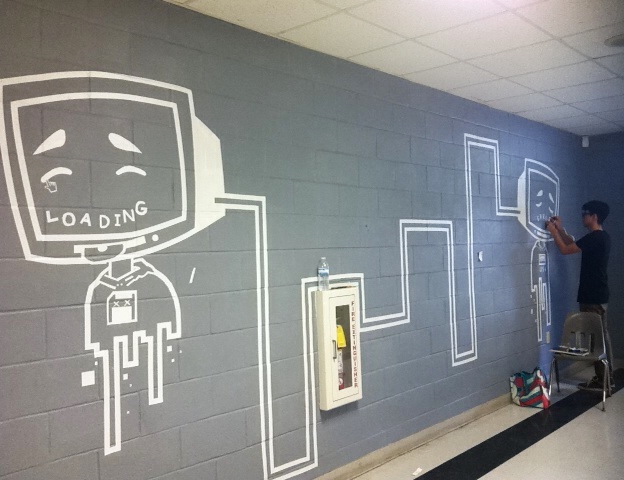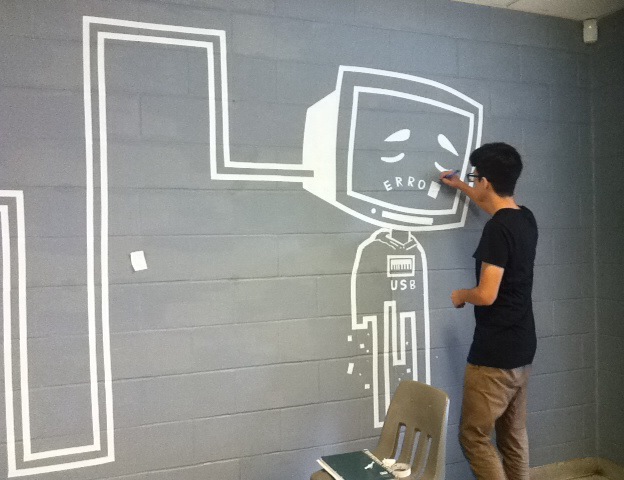 Superintendent's Advanced Placement Studio Art Exhibition
The Coral Springs Museum of Art and Broward County Public Schools' exhibition of Advanced Placement studio artwork opening reception is February 1, 2016. Out of 120 submissions, 79 art pieces were accepted. Congratulations Briyana Butler, Clonia Charite, Lara Pinheiro, Esdras Saint-Preux, and Kevin Santana for their selected submissions. Dillard Center for the Arts cleaned house taking first, second and third place.
Senior Art Shows
Dillard High School seniors in the Visual Arts Magnet and the Digital Art & Design Magnet have yearly art shows to exhibit their best work. Seniors are in charge of setting up the entire exhibit from invitation design, painting walls, hanging art to setting lights and serving refreshments. As well as gaining gallery exhibition experience, they have the opportunity to sell the work on display to use the profits to help with college expenses. Stay tuned for the 2017 Senior Show announcements.
Scholastic Art and Writing 2015
The Scholastic Art and Writing is a nonprofit organization, whose mission is to identify students with exceptional artistic and literary talent and showcase their work to the world through the Scholastic Art and Writing Awards. Students are allowed the opportunity for recognition, exhibition, publication, and scholarship. Students' submissions are blindly judged by leaders in visual and literary arts. Scholastic Art and Writing is a national competition that chooses the top 1% of the works submitted to attend a ceremony in their honor.
We are pleased to announce that the following students have earned NATIONAL recognition in The Scholastic Art & Writing Awards of 2015. Brittany Duffy and Lara Pinheiro have been identified by panels of creative professionals as the most talented young artists in the nation. This year, 300,000 works of art and writing were submitted. Only the top 1% were recognized at the national level. These students have been invited to attend a ceremony at the world-famous Carnegie Hall on Thursday, June 11.
In addition, on June 11, the Empire State Building will be lit in gold to honor Scholastic Art & Writing National Medalists.
Learn more at: http://www.artandwriting.org/
The National YoungArts Foundation identifies and supports the next generation of artists and contributes to the cultural vitality of the nation by investing in the artistic development of talented young artists in the visual, literary, design and performing arts. Each year, there are approximately 11,000 applications to YoungArts from 15-18 year old artists, and from these, approximately 700 winners are selected who are eligible to participate in the programs. With the guidance of YoungArts Artistic Advisors, YoungArts provides these emerging artists with life-changing experiences and validation by renowned mentors, access to significant scholarships, national recognition and other opportunities throughout their careers to help ensure that the nation's most outstanding emerging artists are encouraged to pursue careers in the arts. Brittany Duffy and George Gibbs lll were selected to participate in the week long program in Miami. Brittany and George will also be eligible for scholarships, have access to master classes, and receive a participation award.
Learn more at: http://www.youngarts.org/
RAW Artist
RAW Artist is an independent art organization for natural born artists, for artists, by artists. Their mission is to provide independent artists within the first 10 years of their career with the tools, resources and exposure needed to inspire and cultivate creativity. All genres of art including independent film, fashion, music, visual art, performing art, hairstylists, makeup artists and more are welcome. RAW currently operates in nearly 60 cities across the United States, Australia, Canada and, London. Brittany Duffy was recruited by RAW Artist through her Behance page to take part in the Wynwood Art Exhibit. Brittany was interviewed by RAW Artist and the interview is up for viewing on their YouTube page. Kevin Santana and Piero Penizzotto were also a part of their own RAW Artist Showcase. Their show was held at Revolution Live in November of 2015.
Learn more at: http://www.rawartists.org/
Broward College Program Trains Young Artists And Designers
A new program at Broward College seeks to train the next generation of South Florida artists and designers. The school earned national certification for the Visual Arts and Design Academy – becoming the first community college in the South to have that. Florida's higher education system has put a focus on training workers for health care and other high-demand fields in recent years. And lawmakers have encouraged school districts to start career-training programs. But the National Endowment for the Arts estimates the arts contribute $500 billion to the nation's economy each year. And leaders of the Broward College program argue the arts and technology are tied together.
"People don't realize the relationship, frequently, between science and art," said Broward College art professor Leo Stitsky. "If we do away with pure science there would be no computer. If we do away with art there would be no Apple." Stitsky says most of the students in the Visual Arts and Design Academy are just developing their artistic voice. The students must apply and go through a jury process before they are admitted to the program. Many students are like Josh Cartwright, a student from Dillard's High Tech Digital Art & Design Magnet. He showed talent, but said he didn't think of studying art or design until the high school teacher recommended the program. "When I was graduating high school I wasn't really into art yet," Cartwright said. "I knew I could draw and do, like, small projects." Now Cartwright is interested in creating user interfaces and apps for phones, tablets or computers.
Dillard's Digital Design and Visual Art graduates make up the majority of the student population accepted into the Academy. Kudos to Alyssa Camacho, Piero Penizzotto, Briyana Butler, Rasi Moore, Kendy Calixte, Cesar Valero, Ruth Barotte, Gaby Pabon and many others accepted into this prestigious program.
Broward Art Guild Youth Exhibit
The Broward Art Guild is the oldest and largest organization of working artists in Broward County. Formed in the late 1940's, originally as a branch of the American Artists Professional League, the Guild later evolved into an independent, not-for-profit organization. Students were able to enter multiple pieces of their work into the guild. The exhibit ran from October 1st until October 10th. The reception and award presentation was on Friday, October 10th.
Broward Art Guild is located at: 3280 NE 32nd Street, Ft. Lauderdale, FL 33308
Learn more at: http://www.browardartguild.org/about.htm
Community Garden Clean-Up
Green Apple Day of Service is creating a community garden located on Sistrunk Blvd. The garden was started by the Community Adoption Program Inc (C.A.P.), a non-profit organization that has launched the Sistrunk Nutritional and Ornamental Garden. Their goal is to unite residents by cultivating the land and producing nutritious foods.
The project is intended to address hunger and social change by making food available to residents in the community. They also aim to help educate the community on the benefits of organic gardening and nutrition. The garden will allow our youth to learn agriculture and entrepreneurship skills while encouraging the interaction between seniors and youth.
The garden is located at 2224 Sistrunk Boulevard, Fort Lauderdale, FL 33311.
Learn more at: http://service.mygreenapple.org/
Reading Pays More™ is a nonprofit organization that markets the financial and other rewards of reading, to children and adults. Their mission is to build a culture of reading so that every child is reading and comprehending above their grade level.
Dillard's Hi Tech Digital Art and Design is delighted to announce our involvement in the Reading Pays More summer reading billboard series. Beginning May 28, 2014, and proceeding for three months, a board with three of our students' artwork will be displayed at the corner of Sunrise Boulevard and NW 27th Avenue, Fort Lauderdale, FL. The designs were created by Stacey Jenkins' students who revolved the designs on the power of reading. Clonia Charite's design will display in June, followed by Briyana Butler's design in July, and finally Kaley Maslan Brown's design will display in August. The student's utilized photographic, typographic, and design techniques to create their designs. Reading Pays More will be using the artwork of Stacey Jenkins' students' to display for various venues.
Learn more at: https://www.readingpaysmore.com/
Orchid Garden and Gourmet Food Festival at the Bonnet House
The Bonnet House exhibition was a collection of students artwork from the program inspired by the nature reserve itself. The students were able to artfully photograph portions of the reserve and edit to their liking.