2019 AP2D STUDIO ART SCORES - KUDO'S- A 4 & ALL 5'S AGAIN!!!
A QUALITY work from each AP student. Zyra, YaYa, Tyra, Shanoya, Nadiya, Malik, Justin, Yana, Aliyah, Riv, Adrian & Danielle! Fantastic!
NATIONAL SCHOLASTIC MEDAL WINNERS
Nefertari Pierre Louis (National Gold and Silver) and Rivenshell Salomon (American Visions, National Gold and Silver) celebrated at the Carnegie Hall Awards Ceremony in New York City. These students are recognized as having the most outstanding works of art in the nation. Congratulations!
Arts for Life Scholarship
Congratulations! Raphael Liy, received an Arts for Life! scholarship presented by former First Lady Columba Bush and the Foundation for Excellence in Education. Raphael was selected from more than 650 applicants by a panel of experts in the applied art form. Jeb and Columba Bush hosted a luncheon and awards ceremony honoring the scholarship recipients and their families, teachers and principals at the Adrienne Arsht Center for the Performing Arts in Miami. Kudos Raph!
Cambridge Digital Media & AP2D Studio Art students celebrate the year. "90% is showing up. Congrats, you showed up!"
2019 AP Superintendent's Exhibit
The "Best of the Best" AP students in Broward County. Congratulations, Kaori Hall on your Honorable Mention. Thank you Superintendent Runcie!
"GENERATIONS" Photography Series No. 1 Visit the Dillard Center for the Arts Gallery to view the first in a series of Photography Projects based on the artist JR.
Dillard High School has an extensive history woven into the tapestry of the community. Families are the thread that make our tapestry beautiful. At Dillard High School, we have had the honor to educate and nurture generations of families. As the Dillard community grows, we grow. As we grow, our (family) community grows.
This photography project is to celebrate the history of "GENERATIONS" of Dillard High graduates. We have created 17 black and white photographic portraits of the 32 graduating members of the Douglas Adams' family. The black and white portraits begin with one of the earliest graduating family members, Shirley Adams (1965), and end with Ezekiel Myrie (2023), a young future graduate of Dillard.
Steeped in tradition, Dillard High's rich history and proud sense of 'community as family' is what gives true meaning to achieving the honor of "Dillard High Graduate".
We are family, we are Dillard!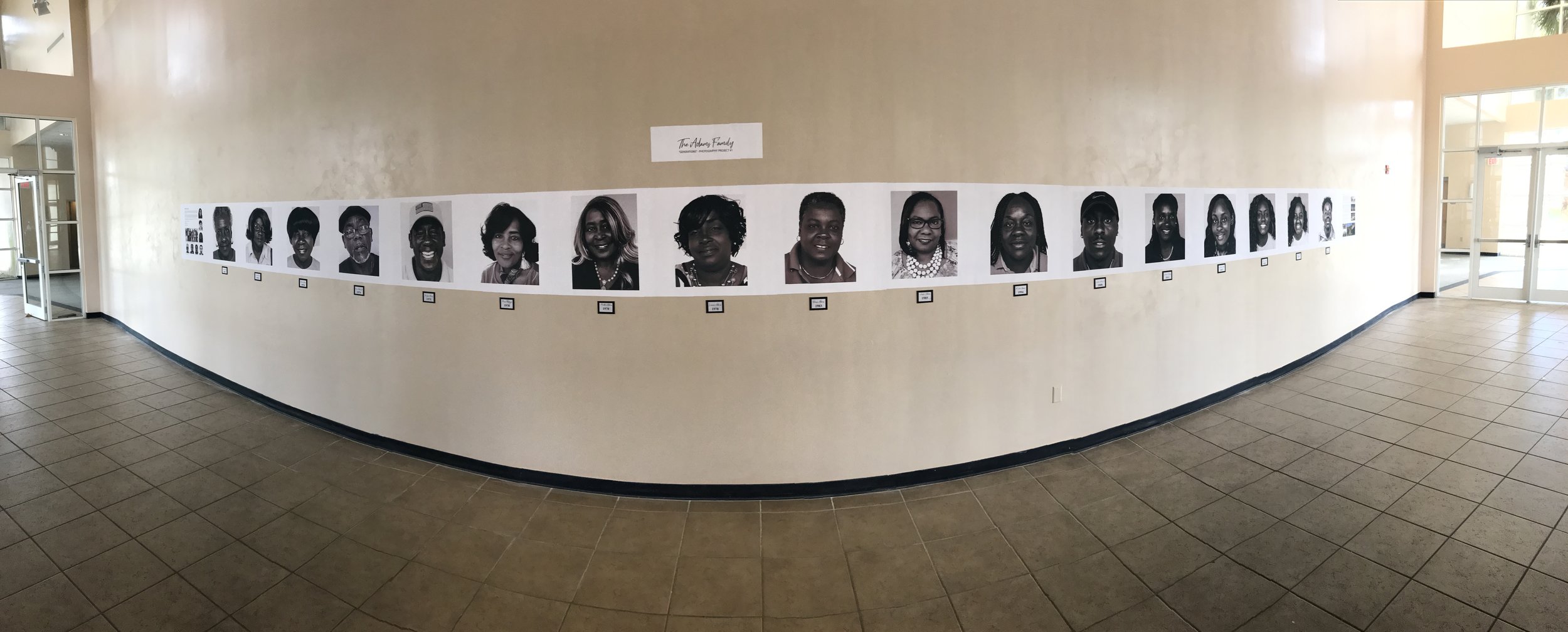 Scholastic GOLD KEYS go to New York for National Judging - Announcements March 12! Good luck to the regional Gold Key winners Kaori Hall, Yahelyah Josama-Queely, Raphael Liy, Shanoya McNeil, Zyra Nembhard, Nefertari Pierre-Louis and Rivenshell Salomon!
Raphael Liy's GOLD PORTFOLIO, "Corruption in the Nation", will go to National Judging. Lily Goltz received HONORABLE MENTION recognition for her portfolio, "Deep Space Connections" .
Scholastic SILVER KEY winners demonstrate exceptional ability. Congratulations to Iana Agapova, Andrea Duarte, Kaori Hall, Yahelyah Josama-Queeley, Raphael Liy, Nadiya McFadden, Avianna Osbourne, Nefertari Pierre-Louis & Rivenshell Salomon.
Scholastic HONORABLE MENTION student works shows great skill and potential. Congratulations to Ryan Boonkure, Justin Clarke, Andrea Duarte, Lily Goltz, Kaori Hall, Yahelyah Josama-Queeley, Raphael Liy, Aliyah Matthews, Shanoya McNeil, Adrian Monterrosa, Avianna Osbourne, Tyra Pacheco, Nefertari Pierre-Louis and Rivenshell Salomon.
OPEN HOUSE 2 - THURSDAY, JANUARY 17 - 6:00 - 7:00 PM …plus our second SENIOR ART SHOW, DCA Gallery 4:30 - 7:00 PM! Hope to see you at both events!
"GENERATIONS OF ALUMNI" - A photographic mural project based on the artist, JR. Student photographers are capturing portraits of extended family members all of which have graduated from the historic Dillard High School. Mr. Adams is the first family of Dillard graduates we have documented for this series. We hope to have many more!
ARTSTART 2019 - FAT VILLAGE ARTWALK -JANUARY 26th - Professional artists mentor students in writing artist statements, artist bios, creating art events, curating art exhibits and engaging with gallery attendees in a professional venue. Kudos!
2018 SUPERINTENDENT'S GALLERY SHOWCASE - Student Artists McKenzie Prendergast and Nefertari Pierre Louis works were selected for the gallery.
FIRST ANNUAL DILLARD HIGH TECH WEEK - Guest speakers, field trips, workshops and more!
SENIOR ART SHOW - December 13, 2018 - Student Artists: Angelina Colon, Lily Mae Goltz, Suerika Khodra, Raphael Liy, Nadiya McFadden, Shanoya McNeil and Symphonii Smith-Kennedy
2018 ART BASEL/WYNWOOD Experience!
Congratulations to Nadiya McFadden First Place win in the Soroptimist International Annual "Stolen Girls…Stolen Dreams" Human Trafficking Poster Contest. January is recognized as Human Trafficking Awareness Month and Nadiya's "Hear My Screams" poster will be displayed throughout Broward County to help get the word out.
2018 NATIONAL SCHOLASTIC MEDAL WINNERS - Cindy Clermont, Silver Portfolio with Distinction - Hakeem Vilamar, Silver Medal Digital Art - Nefertari Pierre Louis, Silver Medal Design - Raphael Liy, Silver Medal Photography - McKenzie Prendergast, Silver Medal Painting
YOUNG AT ART - SPECIAL EXHIBITION - SCHOLASTIC WINNERS NEW WORKS - CONGRATS NEFERTARI PIERRE LOUIS, FIRST PLACE!
#MSDSTRONG - IN LOVE & SUPPORT XO
SCHOLASTIC ART AWARDS CEREMONY - YOUNG AT ART MUSEUM - 55 GOLD, SILVER & HONORABLE MENTIONS + 3 AMERICAN VISIONS NOMINEES!
ART START FAT VILLAGE 2018- FUN & SUCCESSFUL NIGHT FOR STUDENT ARTISTS
UPCOMING EXHIBITS...SEE YOU THERE!!!
STUDENT MURAL PROJECT UNDERWAY....CHECK IT OUT!
INSTITUTE OF CONTEMPORARY ART FIELD TRIP - ICA Miami's signature public museum promotes both the exchange of ideas and stimulates artistic production. Free and open to the public, this new space will bring to the fore some of the leading thinkers and creators of contemporary culture.
STUDENT MURAL PROJECT STARTS THE NIGHT OF TECH OPEN HOUSE!
SENIOR ART SHOWS - DECEMBER 14, JANUARY 18 & FEBRUARY 15
artstart 2018 kick-off
Artist Cheryl Brown brings ART StART to DHS once more! Our students have the wonderful opportunity to attend workshops with guest artist speakers. Students will later exhibit their artwork in FAT Village during the art walk. The Flagler Arts and Technology district holds last Saturday monthly art walks where artists, galleries, music, food trucks and more come together for a night of great food, art and culture. This is a wonderful start for our emerging artists!
eye opening FIELD TRIP with michael joseph
Architecture photographer, Michael Joseph, spent some of his time sharing words of wisdom with our students. He revealed to them the secret to his success and gave great advice that transcends beyond the art field. The students were invited to walk around the gallery to observe his pieces while also encouraged to ask him any questions that came to mind. We hope to visit again!
helium creative gives us insight on the design field
Our students were welcomed to Helium Creative's studio by Kelly Gedvilas and Enid Nolasco. The designers gave us insight on their artistic journey and also their work process as well as a few tips on how to get ahead of the game. Thank you for the fun time! We all loved the studio.
Students got the chance to walk around the art filled streets of Wynwood and admire the expression of art through murals before heading to the world's largest art gallery. Art Basel's goal has been to connect the world's premier galleries and their patrons. Our student got inspired by the diverse range of art exhibited and had a one of a kind experience.
wonderful time at our CITRIX FIELD TRIP
Graphic design and engineering students were invited to visit Citrix's offices where they were given insight on the company's tasks and roles. The students had a one on one experience with the employees in which they had the chance to ask the employees questions about their journey to their occupation and their career. Citrix also gave the students a tour of their facilities and each of their individual departments. Our students had a wonderful time!
boca museum 2017
Our DHS students were invited to visit the Boca Museum of art. The gallery exhibited 2D art, photography, video art, and sculptures. Students had the opportunity to get inspired by the plethora of art work and create their own piece influenced by what they saw in the galleries.
HUMANE SOCIETY - WALK 4 THE ANIMALS T-SHIRT CONTEST
The winning design will be printed on over 1,000 Walk T-Shirts that will be proudly worn by qualifying participants. (The shirt can only be earned by registering at Walk4theAnimals.com and raising a minimum of $150 for the Walk.) The winner will receive VIP Treatment on Walk Day including award and stage recognition, VIP Parking, VIP Tent Access for lunch and more. What better way to show your talent? Here are some of our talented entries! Go to https://humanebroward.donordrive.com/index.cfm?fuseaction=cms.page&id=1125 to view more!
BCPS SUPERINTENDENT'S GALLERY RECEPTION
Students, Parent, Teachers & Administrators celebrate the best of our talented students. Congratulations to Justin Clarke, Megan Lewis, Jeremiah Little, Mariangela Baigorria, Marcus Pierre Louis, & Lakasjah Brown for having their artwork selected for the exhibit displayed in the Superintendents Official 10th floor offices of the KC Wright Building.
DIGITAL ART & DESIGN DOOR MURAL - WIP
When the City Colleges of Chicago announced plans in 2012 to replace the 41-year-old home of Malcolm X College at 1900 W. Van Buren, one of Chicago's most unusual, if little-known public artworks became threatened — a group of 32 door murals by Eugene "Eda" Wade. In the spirit of this artist we are starting a door mural project of our own created by rtists Kaori Hall, Lily Goltz and Jamesly Saint Louise. Stay tuned.... :)
DILLARD CELEBRATES 110 YEAR ANNIVERSARY - 1907-2017
Design submissions for T-shirts and posters. Look for the final selections soon!
SHOE TALKS
FORMER NIKE CREATIVE, CHERISSE THORNHILL, TALKS ABOUT HER WORK AND LIFE...DESIGNER, SHOES AND CAREERS.
NEW MURALS COMING TO DILLARD!
GET READY...SIERRA ROTTMAN, LILY GOLTZ, KAORI HALL, JAMESLY SAINT LOUIS AND BRYANA BUTLER WILL BE WORKING WITH ALEX VAHAN, MURAL ARTIST AND CREATIVE DIRECTOR OF CUSHYGIGS, TO CREATE SOME AMAZING WORKS AROUND OUR CAMPUS.
STUDENTS ACHIEVING EXCELLENCE
SIERRA ROTTMAN, ARTIST AND ILLUSTRATOR, SHOWS OFF THE FIRST PUBLICATION PROOF "LUNORA AND THE MONSTOR KING"!
LADASJAH BROWN, ART PHOTOGRAPHER, PROUDLY WINS A SCHOLASTIC NATIONAL GOLD MEDAL FOR HER PHOTO "LONG DAY"!
DIGI GIRLZ invited to visit microsoft
EXPLORING CAREERS AND THE WORLD OF TECHNOLOGY OPPORTUNITIES TO GIRLS AROUND THE WORLD. THANK YOU MICROSOFT!
GREAT NIGHT OUT IN FAT VILLAGE FOR THE ART START STUDENT EXHIBIT!
Congratulations to Mariangela Baigorria, Mariana Espinosa, Justin Francis, Gabriella Garcias, Megan Lewis, Brianna Mason, Brian Mendez, Marcus Pierre-Louis and Breanna Watson for a fantastic night of art. A special THANK YOU to Cheryl Brown for making this Grant opportunity/Student Exhibit possible!
"NEW VOICES - WORLD AIDS DAY STUDENT DESIGN EXHIBIT" - YVETTE MICHELE STUDIO - FAT VILLAGE ARTWALK, SATURDAY FEBRUARY 25 6-10 PM
CONGRATULATIONS SCHOLASTIC ART AWARD WINNERS 2017 - 9 GOLD KEYS, 9 SILVER KEYS & 18 HONORABLE MENTIONS!!!
GOLD KEYS: LaDasjah Brown "Long Day", Mariana Espinosa "Protect Your Heart" & "Streets of New York", LaKasjah Brown "Fountain", Nicolas Cochrane "Blue Leaf", Marcus Pierre-Louis "Your First Aid is Knowledge" & "On Point", Megan Lewis "Guidence", Nefertari Pierre-Louis "Where Did I Go Wrong"
SILVER KEYS: LaDasjah Brown "On The Wall", "Innocent" & "Breath", Cindy Clermont "Blank", Mariana Espinosa "New York Style", Taylor Hamilton "RIGHT Side of History", Lily Goltz "Mother Of The Sea", Megan Lewis "Sensory Deprivation", Marcus Pierre-Louis "Escalator Observation"
HONORABLE MENTIONS: Mariangela Baigorria, Anita Boonkure, (2), LaDasjah Brown (2), LaKasjah Brown (3), Alexander Dixson, Melanie De La Hoz, Mariana Espinosa, Megan Lewis, Raphael Liy, Marcus Pierre-Louis (3), McKenzie Prendergast, Katherine Sterling
FAT VILLAGE - ART START 2017 EXHIBIT - OPENING RECEPTION SATURDAY, FEBRUARY 25
AP SUPERINTENDENT'S EXHIBIT - CORAL SPRINGS MUSEUM OF ART
FLORIDA GRAND OPERA & ART
The Florida Grand Opera, currently celebrating its 76th year of continuously producing grand opera, presented a fun-filled day where opera fans young and old (new to the genre or opera aficionados) came and explored the world of opera through hands-on activities, live performances, interactive experiences and live theater.
What made this day even more exciting, digital projections created by Mariangela Baigorria were the backdrops for the family-friendly version of the classic opera Carmen.
WORLD AIDS DAY POSTER COMPETITON
The World AIDS Museum and Educational Center in Wilton Manors held the 2nd Annual Broward County High School AIDS Awareness Art Contest Opening Party and Celebration.
High school artists Briana Mason won FIRST PLACE, Mariana Espinosa and Sierra Rottman were runners up for their digital design art work. Winners received a cash prize, a numbered Romero Britto "Courage Lion" and a designer watch.
SENIOR ART SHOW IS A HUGE SUCCESS
The Annual Senior Art Show gives Visual Art and Digital Design students the opportunity to exhibit and sell their art. Under the supervision of Mr. Celestin Joseph, the students are in charge of the entire exhibition process from painting the gallery walls, designing the invitations, hanging the show and communicating with their audience while selling their work.